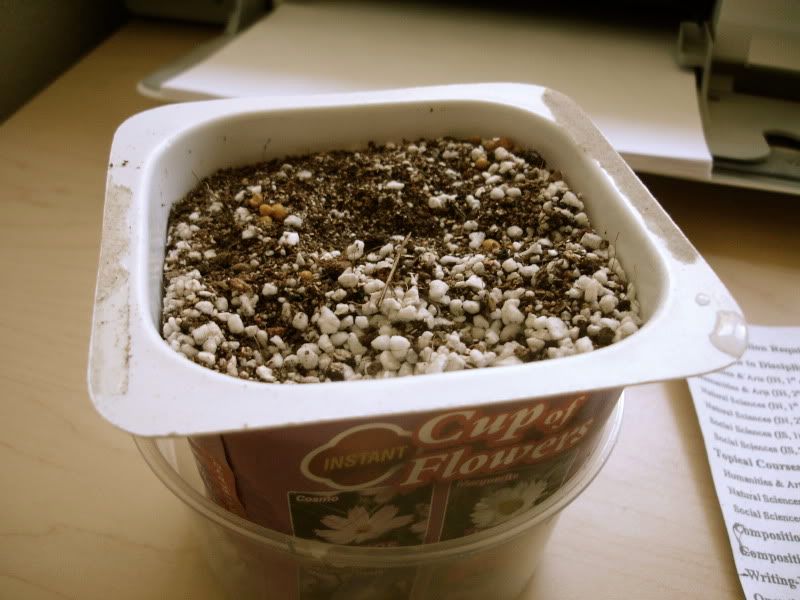 Planted flowers today in my new apartment dorm room, in a purple cup nested in the plastic take-out container emptied of its leftover tom kha from Sabieng to keep water from spilling out all over my third-story window ledge. I am not so much type-talkative now; suffice it to say, it's nice to be here despite how not used to apartment living I suddenly feel. (Getting acquainted with the idea of grocery shopping without my mom, mostly, but nice to go grocery shopping five minutes to closing time at Costco with Pup and Chelsea and Jared and very much enjoying the company even if the only flour and baking soda we can find weighs more than the four of us combined and even if our purchases ended up being twenty pound of tortillas, five mountains of shredded cheese, sixteen tons of triple chocolate brownie mix, thirteen miles of tin foil, Pup's pizza pockets, and the type of beer you sip, not chug.)
More later, when the not-so-instant cosmos sprout, when my Viva Pinata garden has more carrots and bunnycombs, when my walls are covered in more flowers, when my cast iron pan is overflowing with dino kale, when these friendships keep sprouting after nights of Indian food and brownies and sitting in our cozy little living room together on squeaky plastic armchairs around a spotty woodgrain coffee table scheming cat art and crocheted blankets to decorate and match our ambered-glass lamp and our fat and beautiful plate and our tomato salt and pepper shakers and everywhere little jars of sugar and salt and flour.

For now, falling asleep next to Pup (finally!) while he sings Beatles songs in the babiest voice while he dreams about Halo ODST.